GPU optimized servers allow for installation of one or more Graphic Processing Units (GPUs). GPUs in servers are typically used as co-processing units for the systems main processor. Depending on the workload, this can significantly increase the compute performance of the system. Tasks which normally take hours to complete, can often be done in mere minutes on a GPU accelerated server.
So how can a GPU provide so much extra compute power compared to a normal central processing unit (CPU)? We need to look at how CPUs and GPUs function: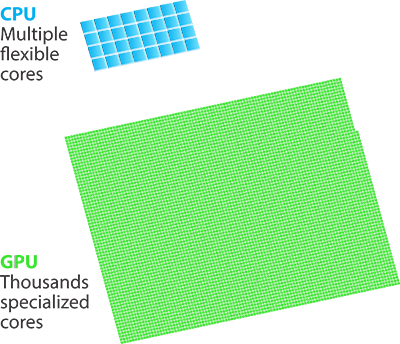 CPU: Most modern server processors have between 8 and 32 compute cores. Each CPU core is typically supported by a dedicated memory cache, and a very flexible instruction set – allowing the core to perform all kinds of operations expected from a server. A CPU core is therefore powerful, but also quite resource demanding, both in terms of investment cost but also in terms of Watt electricity consumption.
GPU: Graphic Processing Units have many small and specialized cores. Each core is great at doing small repetitive tasks. The cores share a common memory pool, allowing tasks to quickly be divided up. Each core is not very powerful, but when all the thousands of cores in modern GPUs work together on a single task, the total compute power is very impressive. A GPU core is very effective, both in terms of investment cost per compute unit, and in terms of Watt electricity consumption.
Nextron is an Nvidia Elite partner and we certified to deliver all professional Nvidia GPU servers and workstations products:
Tesla: GPUs made for compute purposes only. Tesla cards do not have display output ports, and can thus not be used to show graphics on monitors. All current Tesla cards are optimized for rack mounting and passively cooled (they rely on chassis fans to provide the necessary airflow for cooling).
Quadro: Professional workstation GPUs with display output ports (support up to 4 displays connected simultaneously). More RAM and features than consumer GPUs. Usually actively cooled with built in fans, but there are also some passively cooled variants available. Rack mountable.
Titan: A hybrid between Geforce Gaming cards, and the professional Quadro workstation cards. A cost effective gateway into professional graphics. Actively cooled, and not suitable for rack mounting.
DGX: A range of GPU servers dedicated to Artificial Intelligence. Read more here
Please note: Nvidia Geforce GTX and RTX cards are designed for gaming and are not suitable for mounting in servers or professional workstations. You will therefore not find any Geforce cards in our server or workstation configurators.